A memorial service to mark the 30th anniversary of the Clapham train crash will take place today.
On 12 December 1988, three commuter trains collided just south of Clapham Junction station and 35 people lost their lives. Many more were injured.
It remains one of the worst incidents in the Brigade's history.
Memorial service for those who were affected by the disaster
To mark the anniversary, the Brigade and Network Rail are holding a memorial service for survivors, the families of victims and those who were affected by the disaster.
Along with other partner organisations, representatives from the Brigade will take part in a minute's silence and a wreath laying at the site of the crash, followed by a memorial service at St Mark's Church on Battersea Rise.
The Mayor of London Sadiq Khan, Metropolitan Police Commissioner Cressida Dick and the Chief Executive of Network Rail Andrew Haines will join London Fire Commissioner Dany Cotton and other organisations to lay wreaths in memory of those who lost their lives.
Commissioner Cotton was just three months out of firefighter training school when she was called to attend the crash.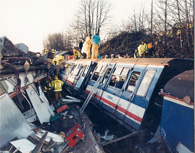 1988 Clapham train crash
Read about a very sad day in London's history
Our thoughts remain with all those affected
She said: "As we mark 30 years since the Clapham train crash, our thoughts remain with all the victims and their loved ones.
"I still remember it like it was yesterday – our first job was getting casualties out of the trains and into the ambulances. There were Christmas cards strewn everywhere as people must have been writing their cards on the train.
"It was a tragic incident and all of us who were there remember it and think of the members of the public who lost their lives during that terrible incident."
The cause of the crash
The first call about the incident was received at 0813 with crews from Clapham, Battersea, Tooting, Norbury, Fulham and Euston fire stations attending.
A crowded commuter train hit the rear of another train, which was standing stationary just south of Clapham Junction station and the impact on the stationary carriages shunted it to the right, where it struck a third oncoming train.
The cause was later found to be wiring issues in the signals, which gave an incorrect signal to one of the train drivers.
An independent inquiry was led by Anthony Hidden, QC for the Department for Transport. The inquiry led to a number of recommendations around signalling and staffing which resulted in significant changes in how the railway was run.