The risks around vaping tend to come from counterfeit or faulty products, and poor charging practises, so take a look at our advice below.
Batteries
Never let your battery come into contact with metal items such as coins or keys in a pocket or bag, as this can cause a short circuit and explosion.
Store removable and spare batteries in a plastic case to prevent accidental contact. Store them out of reach of children.
Don't mix a battery from one supplier or product with a charger from another.
Regularly inspect your vape batteries. If your battery is damaged in any way, leaking or not functioning properly, stop using it and replace it.
Dispose of batteries carefully – your local authority should be able to advise on safe disposal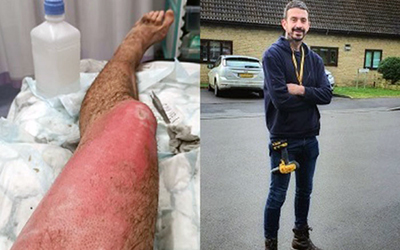 When vaping goes wrong
Richard's vape burst into flames while it was in his pocket, causing third degree burns on his leg.