How can you reduce fire risks for hoarders?
Because of the amount of possessions,  exit routes can become blocked, making safe evacuation more difficult. Fires can also spread much faster, especially where there are flammable items such as newspapers or cardboard.
Understand the risks
Hoarded materials can easily catch alight if they come into contact with heat sources such as overloaded extension leads, the kitchen hob or naked flames like candles or cigarettes. Because of the amount of possessions, fires will also spread much faster.
Fire safety suggestions
If you care for someone who lives in home that has become hoarded, you can help them live more safely by:
Encouraging them not light candles or tea lights of any kind. A safer option is to use LED flameless candles.
Ensuring they have appropriate heating so that they are not using portable heaters, candles or gas hobs to heat the home. If using portable heaters, ensuring that items aren't placed on top of, or too close to them.
Suggest – or if you can, make sure – that they smoke outside if they are a smoker, never smoking in bed or where they could fall asleep, and that they use proper ashtrays.
Contacting the Local Authority to discuss options for support to clear some of the clutter.
Work with them to develop an escape plan.
Book a home fire safety visit – a free service we offer to share advice and help. 
Want more advice? 
There is a separate page for healthcare equipment including oxygen therapy, dynamic airflow pressure relieving mattresses and incontinence products. There's information about emollient creams here, and specialist advice to support smokers here.
Book a free home fire safety visit
We can also provide more specialist advice based on the person you care for's home and individual needs during a home fire safety visit. 
They can be arranged 24/7, and we even fit free smoke alarms if the person you care for needs them. Specialist alarms can also be fitted – for example, strobe light and vibrating pad alarms for those who are deaf or hard of hearing.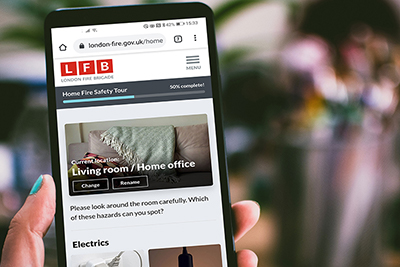 Worried about someone you care for?
We have a simple tool that can guide you around the home helping you spot fire risks, or we can carry out a visit ourselves.
Find out which option is best for you and the person you care for