London Fire Brigade today outlined its commitment to making people with disabilities and long term health conditions safe from fire. The Brigade is highlighting the fire risks associated with health equipment and products used by some of the capital's most vulnerable individuals. We have also produced a short checklist to help carers to identify if the people they support would benefit from a free home fire safety visit by the Brigade.
The Brigade's concern centres on the fact that some health care equipment and products used in the home allow people to remain in familiar surroundings but used, or stored incorrectly, can increase the speed and intensity of a fire.
Concern highlighted during Carers Week
This week, during Carers Week, the Brigade is writing to 25 carer support charities, nearly 1,500 care homes and all 33 councils across London to share new safety leaflets, which highlight the fire risks associated with such home care equipment and products and how to prevent fires.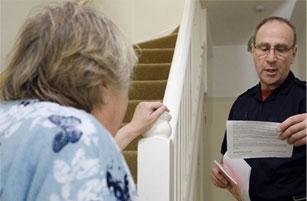 Help for carers
If you care for someone we have advice and support just for you.
Health equipment causes concern
The sort of specialist care equipment the we're concerned about includes:
Dynamic airflow pressure-relieving mattresses / overlays – any puncture by a heat source, such as a cigarette or match, can cause the escaping air to spread the fire quickly
Incontinence products –often stored in large quantities and can add fuel to a developing fire
Home oxygen therapy – any naked flame near oxygen is dangerous
Emollient creams – often contain flammable ingredients and a build-up on bedding and night clothes can increase flammability when in contact with a heat source
Vulnerable groups more at risk from fire
We offer free home fire safety visits, and those with long term conditions and disabilities are a priority group for visits.
The Brigade's Head of Community Safety, Chris O'Connor, said:
"It is a sad fact that people with disabilities and long term conditions are more likely to die in fires. Not only are people often less able to escape if a fire does break out, but they may also have equipment or products in their home which can increase the speed and intensity of a fire. That's why we're doing as much as possible to highlight how people can stay safe in their homes.
"By writing to carer support charities, care homes and local authorities, we'll be alerting them to these risks and reminding them we offer free home fire safety visits. During a visit, firefighters will offer fire safety advice and fit free smoke alarms where needed.
"We're also calling on carers to look out for signs that vulnerable people might be at risk from fires. The most important group are those who smoke, who are at an even greater risk."
Check list for carers
We have also developed a simple person-centred risk assessment check-list to help carers quickly assess whether the person they care for would benefit from a home fire safety visit.
Use the checklist
Last year the Brigade highlighted the dangers of using flammable emollient products, especially for smokers with mobility issues.
Fire death: a case study
We're highlighting the plight of a man who died in a fire in London to try and prevent further similar tragedies.
Mr A* was 61 years old and having suffered a stroke 20 years earlier, was paralysed down one side, was bedbound, incontinent, had mental health issues and took medication likely to cause drowsiness. He used an airflow mattress and emollient products to treat or prevent pressure sores caused by his immobility.
A care package was provided by Mr A's local authority whereby a carer lived in with him to provide 24 hour care.
When the carer left the house briefly Mr A dropped a cigarette onto his bedding. A fire started and developed rapidly, accelerated by the airflow mattress and residues of emollient products on his clothing and bedding.
There was no smoke detection inside the property, and the alarm was raised by neighbours who saw smoke coming from the house.
Mr A was found deceased in his bed by fire officers who had forced his front door to gain entry to the property.
*This case study has been anonymised due to the distressing nature of the incident and the impact on the carers and local community*