Smoke alarms fitted by firefighters alerted a man to a fire in his flat on Goldsmiths Row in Hackney.
Four fire engines and around 25 firefighters tackled the fire in the a first floor flat and prevented it from spreading to adjacent properties. 
Bethnal Green Watch Manager David Carnegie said:
"We carried out a home fire safety visit three months ago where we were able to talk through fire risks and fit ten year-life smoke alarms. When crews arrived we heard a smoke alarm sounding and thankfully the man was outside the property.
"The home fire safety visit booking was made by referral. We'd like to see more agencies, carers, family members or friends think about the fire risk of vulnerable people and book a visit today."
A large amount of the flat, which was above a shop, was damaged by the fire. A man was taken to hospital by London Ambulance Service crews.
The Brigade were called at 0946 and the fire was under control at 1014. Fire crews from Soho, Shoreditch, Bethnal Green and Whitechapel fire stations attended the scene. 
The cause of the fire is under investigation.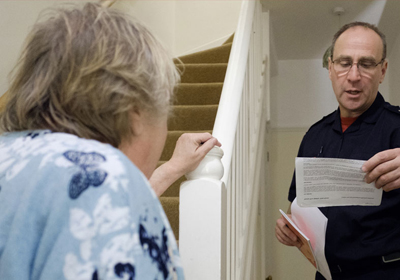 Book a home fire safety visit
It's totally free, available 24/7, and we will even fit free smoke alarms during the visit if you need them.