With winter on the way amid an unprecedented public health crisis, we're urging smokers to join the Stoptober movement and quit the habit - to protect themselves, their families and their neighbours.
In the five months since the lockdown period commenced*, our firefighters tackled almost 640 fires caused by smoking materials. Brigade figures show that smoking-related fires in the home have increased by around 20 per cent since the lockdown was announced - even though one study suggests that one million smokers in the UK quit in the early months of the lockdown.
Smoking - the second biggest single cause of fires this year
Between January and September this year, smoking was the second biggest single cause of fires our firefighters were called to after cooking*. In that period, four people died and 98 people sustained injuries as a result of smoking-related fires.
Smoking is one of the deadliest causes of fire, while only ten per cent of accidental dwelling fires are due to smoking, the Brigade has recorded 'smoking' as a cause for almost a third of fire related deaths from 2009 to date.
During lockdown, our crews have regularly extinguished fires caused by a cigarette thrown from a balcony and falling onto flammable materials on lower balconies. They've also noticed an increase in smoking-related fires in different rooms of a house. Stoptober is an opportunity to step away from the habits that come with smoking and can cause fires.
Discarded cigarettes believed to be cause of recent incidents 
Just this week, fire destroyed a sixth-floor balcony and part of the attached flat in Beckton, which was caused by the unsafe disposal of a cigarette. Part of the balcony above was also damaged by fire, though thankfully no one was hurt. Last month a discarded cigarette is believed to have started a fire which set a motorbike alight, and destroyed it, when it fell from a Bermondsey flat onto a balcony below.
In late June, thirteen adults and five children were treated by London Ambulance Service crews at the scene of a fire at a block of flats in Kennington. A cigarette had been discarded from an upper floor and landed on combustible materials on the balcony of a first floor flat. The flat itself was damaged by fire and smoke.
With the weather turning colder and Londoners continuing to work from home, and spend much more time there due to social distancing measures, there's a risk that smokers will be tempted to smoke inside their homes or on balconies.
Smoking - one of the highest causes of fire fatalities
Deputy Assistant Commissioner for Fire Safety, Charlie Pugsley, said: "It's incredibly challenging to give up smoking but we're backing #Stoptober as research proves if you quit for 28 days then you're five times more likely to quit for good. Giving up smoking can not only prevent fires but the health benefits are countless.
"As the weather gets chilly, more people may be tempted to smoke indoors. But as we've seen from recent incidents we've attended, this increases the risk of fire. Discarding cigarettes, without ensuring they're completely extinguished first, not only puts yourself at risk but also your family, friends and neighbours. Quitting the habit is a surefire way to alleviate the risk and help curb smoking being one of the highest causes of fire fatalities."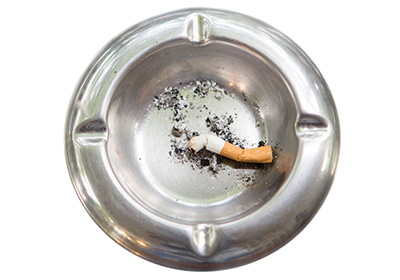 Caring for smokers
Do you care for someone who smokes? Take a look at our advice on how to help them be as safe as possible.