Firefighters are asking Londoners to go to an official display rather than letting off fireworks at home following last year's spike in fires over the bonfire period.

Last year, the Brigade attended 332 fires between 2nd November to the 5th November, which is a five year peak.

To make matters worse, the way the dates fall means that bonfire weekend will also incorporate Halloween parties, leading to concerns that this clash of festivities will lead to even more fires.
Organised displays are safest
London Fire Brigade Assistant Commissioner Dan Daly said:
"I've seen so many needless fires and injuries caused by fireworks. They often streak off out of control and land in bushes and garden sheds and then smolder unnoticed until it's too late. The safest thing you can do is take your family to an organised display.

"If you choose to have your own display, never drink alcohol and set off fireworks, keep them in a closed metal box and only ever buy ones with the British standard kite mark. If you do have your own DIY display, do not build a bonfire as all too often, they burn out of control. Bonfires in your back garden are especially dangerous."

To help Londoners find their nearest display, the London Fire Brigade website has an interactive map listing all the official firework display in London.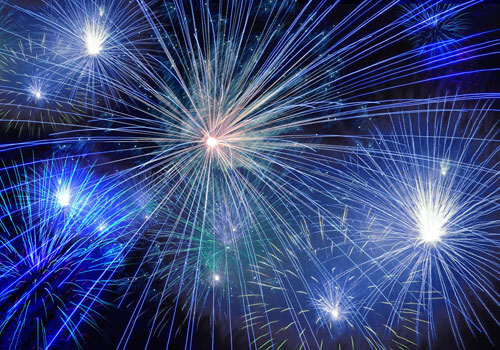 Find your nearest organised fireworks display
For those that can't attend an official display, the Brigade top firework tips are :
Only buy fireworks which carry the CE mark, keep them in a closed box and use them one at a time
Read and follow the instructions on each firework using a torch if necessary
Keep naked flames, including cigarettes, away from fireworks
Don't put fireworks in pockets and never throw them
Don't build a bonfire but at the very least, make sure that the fire is properly out before leaving
Always keep a bucket of water or a hosepipe nearby

Don't let Halloween become a nightmare
With regards to Halloween, unsupervised candles in pumpkins and lanterns are the main concern at Halloween, especially when used around fancy dress outfits.
Dan Daly continued: 
"Use an LED light instead of a candle in your pumpkin lantern especially if you are holding a children's party. Many parents will ensure they buy fancy dress outfits that are labelled as flame-resistant but most clothes will burn when exposed to flame. Never leave candles unattended especially at a children's party or on trick or treat night."

If your clothing catches fire remember to stop, drop and roll:
Stop – don't run, you'll make the flames worse.
Drop – lie down on the ground at once.
Roll – in heavy fabric or a fire blanket to smother the flames, though just on the ground will help.