The Brigade's fireboat will be decked out as a Pride rainbow to join a flotilla of ships for the first ever London Parade of Sail this Friday. The Brigade's fireboat will join vessels from the Metropolitan Police, RNLI, Port of London Authority boats, and two Royal Navy fast patrol ships.  
From 4pm to 6pm, you'll be able to spot the flotilla along its route from both banks of the Thames.
Rainbow fire engine joins the parade
Lambeth Station Commander, Chris Leeming , who is helping to coordinate the sail for the Brigade said: "Pride has always been an important event for the Brigade and a fire engine joins the parade every year but this year we wanted to take it further and deck out the fireboat too.

"Being a firefighter is so much more than fighting fires, it's also about stopping them from happening in the first place too and to do that we need to work closely with all of London's diverse communities.

"London Pride is a really important community engagement event for us and one that we all look forward to. "
The Brigade's fireboat will join the Royal Navy fast patrol ships as they go along the River Thames, under Tower Bridge and remain beside HMS Belfast on The Queen's Walk before going back under Tower Bridge and finishing at St Katherine's Dock alongside HMS President.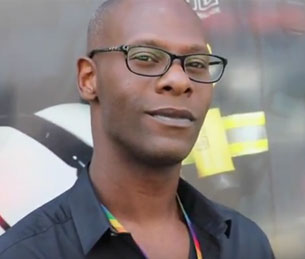 Meet a Pride Crew member
Devon will be on the boat and on the fire engine for Pride
As well as assisting with firefighting, the fireboat gets called to specialist incidents such as boats in danger or distress, persons in the water, mud rescues and animal rescues.
Soho station opens its doors
London Fire Brigade staff will also join the Pride in London parade on Saturday, July 7,  alongside our appliance specially decorated in the rainbow colours as it makes its way from Cavendish Square to Trafalgar Square.

After the parade, Soho Fire Station will open its doors for a free open day from 1pm to 5pm, with a DJ keeping the crowds dancing. Members of the public will be able to visit the fire station, meet firefighters and fire cadets, sit in a fire engine, have their faces painted.

If you have ever thought about a career in firefighting, you can try on a firefighter's uniform and talk to firefighters about what life at London Fire Brigade is really like.