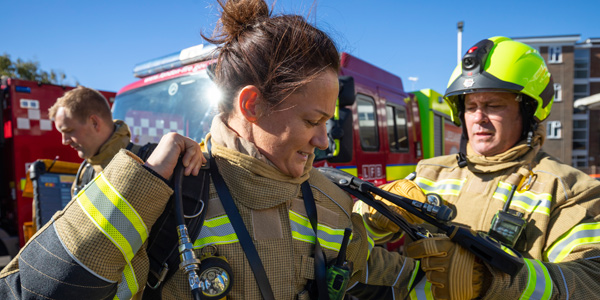 Find out about becoming a firefighter
We're looking for the best people for the job. Find out what the job is and how to get it.
Firefighters appearing in the hit ITV documentary Inside London Fire Brigade are calling on people to join them as a new round of recruitment opens at a time when the Brigade needs more firefighters.
 
The Brigade is hoping that the success of the brand new ITV show which started on Thursday, 27 July 2017 will entice those who never thought of firefighting as a career, especially more women and those from black and minority ethnic groups. The Brigade's 10 year Safer Together strategy aims to make the capital's fire and rescue service the most diverse and inclusive in the country. 
Inside London Fire Brigade documentary
The three-part documentary, Inside London Fire Brigade, showcases that modern firefighting is about much more than fighting fires, and includes numerous career paths from investigating fires and specialist rescues to dealing with hazardous materials and carrying out community work to stop fires breaking out in the first place.
 
Firefighters and officers who feature on the show have joined the campaign and the Brigade hopes this will inspire more people to apply. The film crew attached themselves to Lambeth, Brixton and Battersea fire stations, but were also given access  to other incidents  across the capital as they happened. They managed to film a mix of fire and rescue 'jobs' offering a unique insight into the range of incidents firefighters attend,  including the Croydon tram crash, a serious flood  in Stoke Newington as well as road traffic collisions, but the series also shows the range of issues professional firefighters deal with today including essential fire prevention activity.
Meet the firefighters
London Fire Commissioner Dany Cotton said:
 
"The response we received from the first episode of the documentary has been amazing and now we're asking viewers to step up. If you don't like the idea of a desk job but do like meeting people, pushing yourself, being part of a team and working at the heart of the community,  please apply now.
 
"Saving lives, whether through carrying out an emergency rescue or educating people  about fire safety, is the most fulfilling role anyone can do."
 
You can apply at the age of 17.5 years old. We're looking for the right mixture of skills, aptitude and fitness levels.
 
London Fire Brigade Borough Commander for Hackney Steve Dudeney said:
 
"It is a worthwhile, varied and really rewarding job where every day we make a difference. Your crew members are like a second family and the opportunities available are incredible. Going to incidents is exciting but it isn't just about jumping on a fire engine, we prevent fires from happening and our impact in the community is immense."
Are you ready to be a firefighter?

Recruitment closes on Monday, 14 August 2017 so that applications can be processed and candidates identified.  
The application process
 
Successful candidates start with pre-learning programme where some initial theory will be taught by video presentations.  Similar to a foundation course, the basic concepts of the firefighter role are explained.  This is done at the trainees own pace and currently lasts up to 10 weeks. 
 
The second stage is a combination of classroom and practical sessions where trainers will be assessing the theory alongside  practical skills. Trainees will have classroom and practical sessions on subjects such as fitness, health and safety, legislation, fire science, handling of equipment - how to use knots and lines, hoses and hydrants and the use of ladders, as well as key skills such as water management and breathing apparatus.
 
The third and final stage is on the job development and consolidation of learning at a fire station, and it can take between 18-36 months to confirm competence in role (via a Personal Development Record).  In addition, two (2 day) workshops require completion to confirm that knowledge and understanding has been retained in the workplace.